Get Paid To Have An All Access Pass To Events – WILD IDEA!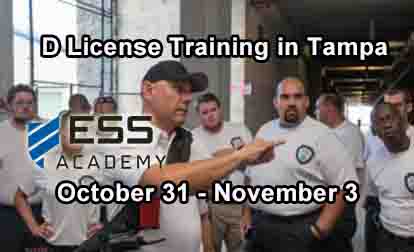 Are there events you want to go too but don't want to pay for a ticket? Have you thought of a way to attend the event and also get paid for? Or do you want to start a new chapter in your life? Or do you want something that has the potential to open up doors?
Our thoughts – GET YOUR SECURITY LICENSE!!! Yes, there will be some upfront costs BUT it will pay for itself very quickly when you work anywhere that requires you to have a Security License. Another thought of ours, we just so happen to offer the State Mandated Training!!! Wild idea right?
New Classes Every Other Month! Next class begins Monday, October 31, 2022! SEATS ARE LIMITED! Contact us ASAP to get the ball rolling!
Once you have completed the state-mandated 40-hours of classroom training and taken and passed the exam the State of Florida will issue you a temporary license. The temporary license will allow you to begin working immediately while waiting for your hard copy from the State. The Class "D" license is for unarmed positions. You must complete the requisite requirements to obtain a Class "G" license that entails 28 hours of state-mandated classes plus a 48-round firearms qualification course.
Or check out our Events Calendar at www.essacademy.com/events/